Salt Delivering Systems
When you choose Step Saver, Inc., you are selecting a company that has a reputation for quality products and outstanding service. Whether you are looking for a convenient salt delivery service or ice-melting options. Our services include: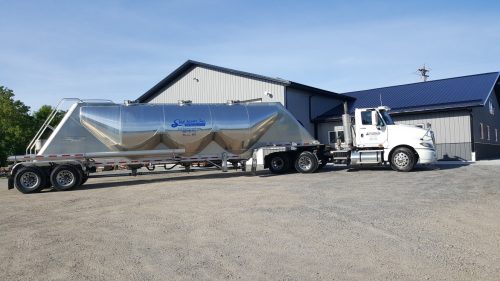 Brine tank salt refills: Are you tired of checking salt levels and hauling heavy bags? With our efficient delivery system, you can rely on us to keep an eye on your salt levels and replenish your brine tanks with salt when needed. We never need to enter your home or business and you can rest easy knowing we're taking care of the hassle. Our prices are competitive and our service can't be beat.
Ice Kut and melting products: With our unique ice kut product made in-house, you can be assured Step Saver can handle your de-icing needs and you don't have to worry about shortages. May be purchased by the bag, pallet, or bulk. Order yours today!
Water softener and R/O systems: Step Saver, Inc. offers a full line of products at competitive prices. We are also able to adapt to your current water softener set up, ensuring quality soft water at your convenience. We work with all major water softener companies as well as engineers to provide the best solution for your unique needs. Call us for details on how we can tailor your needs!
Step Saver, Inc. wants to completely alleviate the burden of maintaining appropriate salt levels in your brine tank, leaving you with only pure, quality water and complete peace of mind. The Step Saver system allows a direct connection from our salt delivery truck to your brine tank, without us entering your facility. Our system measures your salt levels automatically and replenishes the exact amount of salt your tank needs to stay optimal. Step Saver is convenient, secure and often costs less than what you currently pay for water softener salt!
If you're looking for the most convenient method of water softener salt delivery in Minnesota, North Dakota, South Dakota, Iowa, and Wisconsin, Step Saver, Inc. is ready to open your eyes!